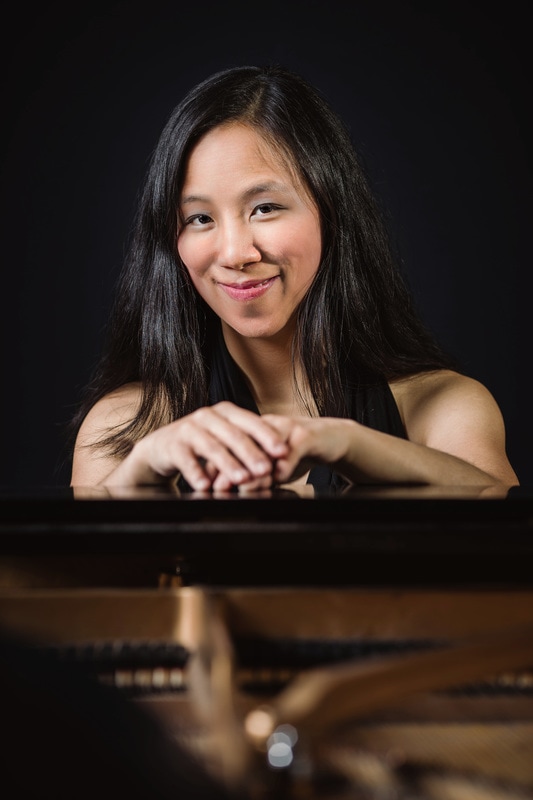 (Photo Credit: Brad Howe Photography)


Praised as a "big pianist, big musician, big potential" with "compelling artistry that draws the listeners in and envelops them with musical joy," pianist Ho Yan Agnes Wan most recently completed a performance tour to Paris and the United Kingdom (London, Coventry, Cambridge, and St. Andrew in Scotland), as well as one to Ontario, Canada (Kitchener and Toronto) and another one to six cities in Texas. Highlights of other prior engagements included a highly successful recital on the "Pianists of the World" series at the prestigious St. Martin-in-the-Fields in London, United Kingdom, where she performed for a full house of audience and the season kick-off on the SPG Live! Concert Series at the Steinway Piano Gallery of Charlotte, where she performed on the legendary Horowitz piano (CD 503) as part of the piano's Piedmont Region Tour.

A first prize winner at the Paris Grand Prize Virtuoso Music Competition and the Bradshaw and Buono International Piano Competition, Agnes Wan has also won the Loyola Concerto/Aria Competition, University of Iowa All-University Concerto/Aria Competition, and the University of Iowa Chamber Music Competition. Other awards she has received include the Special Presentation Award at the Artist International Debut Auditions, an Honorable Mention at the Los Angeles Liszt International Piano Competition, and fourth prize at the Hong Kong Open Piano Competition, in addition to numerous scholarships. In 2012, she was selected as a finalist at the International Web Concert Hall Competition, in which she was the only solo pianist among all the finalists that year. Her recent recital at St. Martin-in-the-Fields was the result of her success in an audition that drew many applications from talented musicians all over the world.

An active piano recitalist, her performance is typically characterized by its expressive quality. In a recent recital review published by the Classical Voice of North Carolina, critic Chelsea Huber wrote, "perhaps the best thing about watching her perform is the joy she exudes while playing. Wan has a sort of quiet intensity that manifests itself regardless of the mood set by the music … Wan performed the music with feeling that involved every fiber of her being," and highlighted her "intricate interpretation … precise articulations … independent phrasing of each melodic line … exuberant performance … carefully phrased, lyrical melody ... [and] sense of humor." She has given full-length solo recitals in sixteen states and Washington D. C., Canada, France, Hong Kong, and the United Kingdom, in addition to other concert appearances on music festivals in Belgium, the Czech Republic, Hungary, Italy, and Japan. Her performances have been broadcast live on radio stations including WFMT Chicago, WUOL Louisville, WPLN Nashville, and WPR Wisconsin Public Radio. Among the highlights of her recital venues are Carnegie Hall and Merkin Concert Hall in New York, the American Cathedral in Paris, the Banff Centre for the Arts (where she was a resident artist in 2003-04), Steinway Halls and Galleries in eight different American cities and London in the United Kingdom, and various universities and churches. As a concerto soloist, she has appeared with the Loyola Chamber Orchestra, University of Iowa Chamber Orchestra, Maryville Orchestra, the Columbia County Civic Orchestra, Germantown Symphony Orchestra, the Christ Church Cathedral String Orchestra in Louisville, and the highly-regarded Manassas Symphony Orchestra.

Agnes Wan's debut compact disc recording, "Robert Schumann: Romance at the Piano," released on Soundset Recordings label in late 2012, received critical acclaim from music critic Jerry Dubins (with the Fanfare Magazine): "… Wan plays these Schumann pieces as expressively and poetically as anyone I've heard, always placing her technical mastery at the service of Schumann's ever-inventive musical imagination."

Besides solo work, Agnes Wan has also been commented as a "natural collaborative pianist" by the renowned vocal coach Kenneth Griffiths during her studies at the University of Cincinnati. As a collaborative artist, she has worked with many excellent musicians, including violinists Edward Pulgar and Ilia Steinschneider from the Knoxville Symphony Orchestra; Annette-Barbara Vogel, Professor of Violin at the University of Western Ontario; renowned Canadian pianist Marc Durand, vocalists Terence Goff, Matt Lake, and Liza Forrester-Kelly, among others. She is a consistent piano duo partner with pianist ChiHee Hwang, with whom she has performed in various concert series, including the Nightcap Concert Series at the Blair School of Music at Vanderbilt University which was recorded and later broadcasted on WNPT-2 Television, the Steinway Society Concert Series at the Steinway Piano Gallery in Nashville, the University of Tennessee Alumni Concert Series which was later broadcasted on Radio WUOT, and the Sondheim Chamber Music Spotlight Series at the Fairfield Arts and Convention Center in Iowa. The duo also performed two recitals for the dedication of the renovated Briley Recital Hall at Chowan University in North Carolina.

As a clinician, Agnes Wan has been an active adjudicator at many youth piano competitions, most notably including the United States Open Music Competition in California, the TTU Young Artist Piano Competition at Tennessee Technological University, many competitions of the Music Teachers National Association in Maryland, North Carolina, South Carolina, Tennessee, and Virginia, and the 2016 Singapore Performers' Festival. Her own students have received various honors at local and regional competitions. Additionally, she actively gives masterclasses to talented young students whenever possible. Past masterclasses have been given at various Steinway facilities, the Covenant Presbyterian Church in Augusta, the Chattanooga High School Center for Creative Arts, the High School for Performing and Visual Arts in Houston, Enloe High School in Raleigh, Durham School for the Arts, Bonjour de Musique academy in Hong Kong, the Community College of Baltimore Country, McNeese State University, Tennessee Technological University, and the University of Montevallo.

Agnes Wan has presented various topics related to piano performance and pedagogy at the Chattanooga, Knoxville, and Nashville music teachers associations in Tennessee. In addition to being a featured clinician at the 2012 Alabama Music Teachers Association State Conference, she also presented at the 2004 Performing Arts Medicine Association Conference, 2013 Indiana Music Teachers Association State Conference, 2014 Texas Music Teachers Association State Conference, and the 2015 North Carolina Music Teachers Association State Conference, and the 2016 Singapore Performers' Festival. She has also presented workshops at other facilities including the Steinway Piano Gallery of Charlotte. Her Book, "Physical and Mental Issues in Piano Performance: The Interrelationships between Physical Tension, Performance Anxiety, and Memorization Strategies," published and released by VDM-Verlag in 2008, has reportedly been recommended as a reference book for piano pedagogy courses at a few universities. Her pedagogical articles have been published in the American Music Teacher magazine.

Agnes holds the Doctor of Musical Arts degree in Piano Performance and Pedagogy from the University of Iowa and an Artist Diploma from the University of Cincinnati College-Conservatory of Music. She also obtained her bachelor of music (hons.) degree and double master's degrees in music therapy and piano performance at the Hong Kong Academy for Performing Arts and Loyola University New Orleans respectively. Her teachers have included Gabriel Kwok, Nancy Loo, Jac McCracken, Uriel Tsachor, James Tocco, and Michael Chertock. Passionate about Bach's music, she also received tutelage specifically on the interpretation of Bach's keybaord works from the renowned Chinese pianist Yuan Sheng, who studied intensively with Bach expert Rosalyn Tureck.

Agnes Wan has previously served on the faculties of Maryville College, the Blair School of Music at Vanderbilt University, and Chowan University. Currently she is an Assistant Professor of Piano at Virginia State University and an Adjunct Lecturer of Applied Music (Piano) at the College of William and Mary. In September 2013, she was invited to join the roster of Steinway Artist, an honorable designation she has since held.